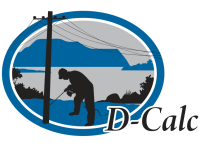 D-Calc
Pole Damage Analysis Software
D-Calc provides pole groundline inspectors and engineers a tool to quickly and accurately evaluate the effect of damage or decay on a wood pole's strength. Traditional methods determined pole adequacy based on average remaining shell thickness or reduced circumference measurements. D-Calc allows the user to input pole properties and "draw" a true representation of the observed damage, which it then uses to calculate the percent remaining strength.

D-Calc runs in internet connected as well as disconnected modes on Windows, iOS, and Android devices, including tablets and smartphones. D-Calc has a variety of import and export formats, and includes a direct integration to Esri ArcGIS Collector, Field Maps, and Survey123.
---
Pricing options
---
API, SDK, and Enterprise options are also available upon request.
Contact Paul Petersen for more information.
Pricing & Ordering
Paul Petersen
970-204-4001
This email address is being protected from spambots. You need JavaScript enabled to view it.
Matt Sinclair
970-204-4001
This email address is being protected from spambots. You need JavaScript enabled to view it.